Dental Crowns – Kittanning, PA
Beautiful, Long-Lasting Dental Restorations
If you're self-conscious about cracked, broken, decayed, or worn teeth, we can bring back your healthy, natural-looking smile with dental crowns, also called caps. A dental crown can completely restore the structure, strength, and function of a tooth following extensive decay or damage when a filling is not enough. Designed to fit snugly and function as a healthy tooth, a crown will protect your tooth from further damage and preserve the jaw's correct alignment. If you need our help restoring your smile following damage or decay, call Voller Dentistry, PC right away to schedule a consultation to discuss smile restoration with dental crowns in our Kittanning, PA dental office.
Why Choose Voller Dentistry, PC for Dental Crowns?
Custom-Made, Natural-Looking Restorations
Dentist with 40+ Years of Experience
Long-Lasting Dental Work
What is a Dental Crown?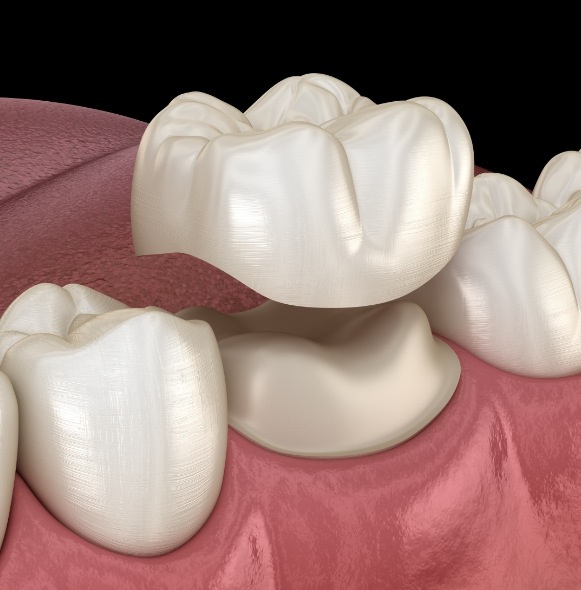 Dental crowns are advanced restorations that fit over the top of a damaged or decayed tooth in most cases. This protects remaining dental structures and fully restores the healthy form and function of your smile. Once in place, a dental crown will blend seamlessly into the natural smile line.
What are Dental Crowns Made From?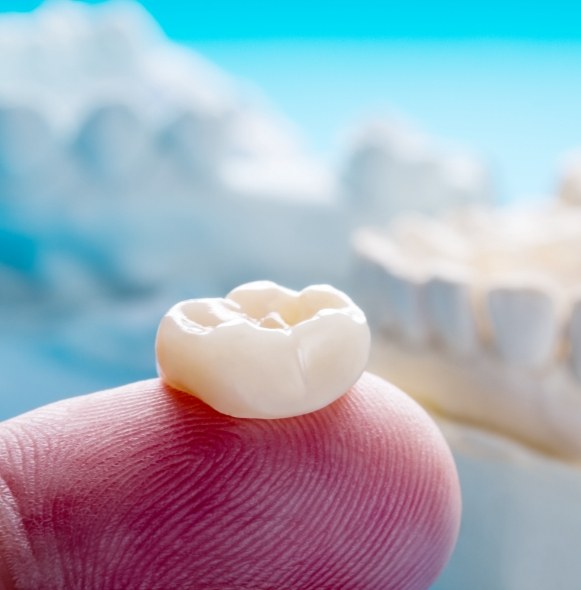 We use precious metal, porcelain pressed (or fused) to metal, or all-porcelain crowns. To maintain a fully white smile, we recommend all-ceramic crowns. Our precise color-matching system allows us to find the right shade of porcelain to blend with your natural tooth color. Porcelain crowns are also extremely durable and long-lasting, and these benefits make them popular with dentists as well as patients.
When Will I Need a Dental Crown?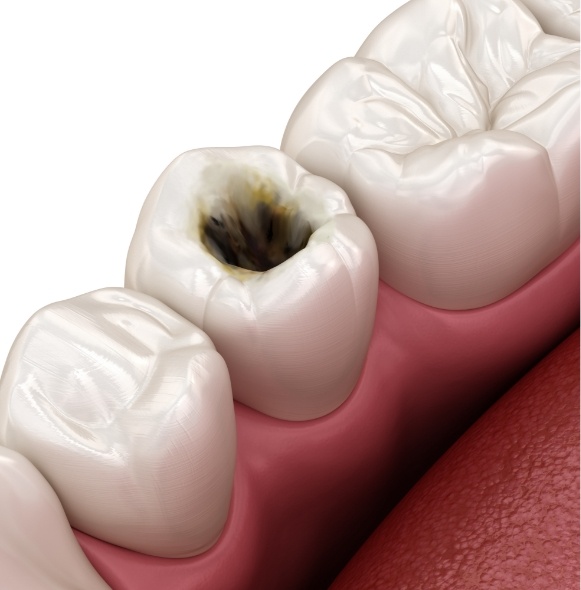 We use dental crowns in a variety of situations to replace lost tooth structures, including:
To repair damaged or decayed teeth
To replace a broken or lost filling
To protect root canal treated teeth
To connect with a dental implant to replace one lost tooth
Attached to surrounding healthy tooth structures to replace one or more teeth
All-ceramic crowns can even be used for purely cosmetic purposes correcting irregularities in shape, size, color, and spacing
How are Dental Crowns Placed?
Typically, we can design, fit, and place your crowns in just a couple of short appointments. During the initial visit, we will prepare your smile by removing any damaged tooth structures and a small amount of enamel around the tooth to allow the crown to fit into your smile without sticking out or sitting too close to surrounding teeth. Once teeth are prepared, we capture impressions of your smile and place a temporary dental crown. Once we receive the final crown from our lab, you'll return to exchange your temporary for a flawless, custom dental crown, leaving you with a healthy, flawless smile.
How do I Care for My Dental Crown?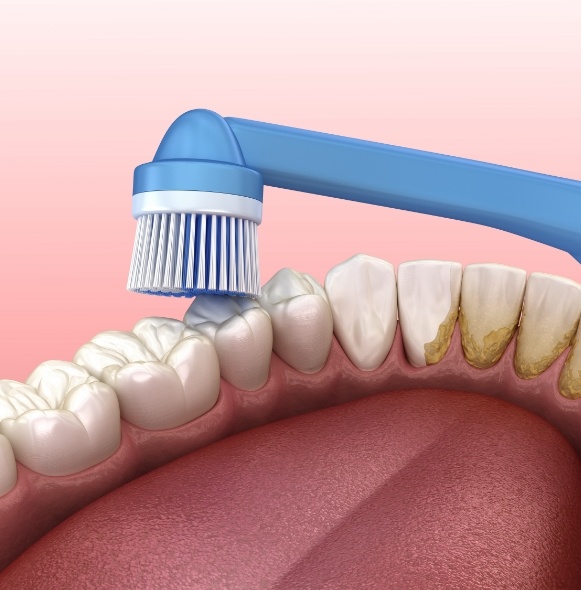 Once a crown is placed, you can care for it as you do your natural teeth. Conscientious brushing two minutes at a time, twice a day, and daily flossing will protect the base of your crown from bacterial growth. Be sure to see us at least two times each year for professional cleanings and a preventive exam, too. Even with proper care, dental crowns need to be replaced periodically to ensure it remains whole and functional.
Understanding the Cost of Dental Crowns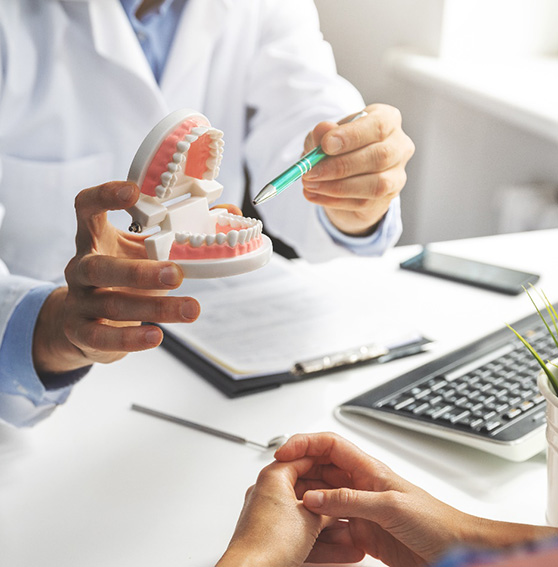 You probably know more about dental crowns after reading this page than you thought you ever would, but there is likely one question still on your mind—How much will it cost? The truth is that there is no fixed price for dental crowns. Each situation is influenced by a number of factors that can make the treatment more or less expensive, and to learn how this works, just click the button below.
Factors That Affect the Cost of Dental Crowns
Size of the Crown: Simply put, the bigger the crown is, the more expensive it will be because it will require more material to make.
Location of the Crown: Elaborating on the point above, crowns used to cover molars are usually larger and more complex compared to those placed on the front teeth, so back crowns tend to cost more.
Preparatory Procedures: Often, a damaged or infected tooth will require a root canal before it can be topped with a crown. While this won't affect the price of the crown itself, it will increase the overall cost for the patient to have the tooth repaired.
Crown Material: Tooth-colored crowns like all-porcelain ones or porcelain-fused-to-metal tend to have a higher price than all-metal crowns.
Does Dental Insurance Cover Dental Crowns?
Yes, the vast majority of dental insurance plans offer at least partial coverage for dental crowns. The percentage typically starts at around 50% but varies from policy to policy. Most plans require that a patient meet their deductible first before any benefits are available. To get a better idea of what you'll be expected to pay out of pocket, be sure to look over your plan and ask our team any questions before committing to treatment.
Options for Making Dental Crowns Affordable
If a patient can't afford to pay for a dental crown all at once, they can space it out with low-to-no-interest financing from CareCredit. Signing up for a plan is easy, and you can get started just by clicking here.
Or, you can take advantage of the Voller Value Plan. For less than the cost of insurance, you can cover your basic dental care for the year and gain access to a 20% discount on all other treatments (including crowns!). There are no deductibles, maximums, or claim forms…you just sign up and save! You can learn more about the benefits and how to sign up by visiting this page.
Dental Crown FAQs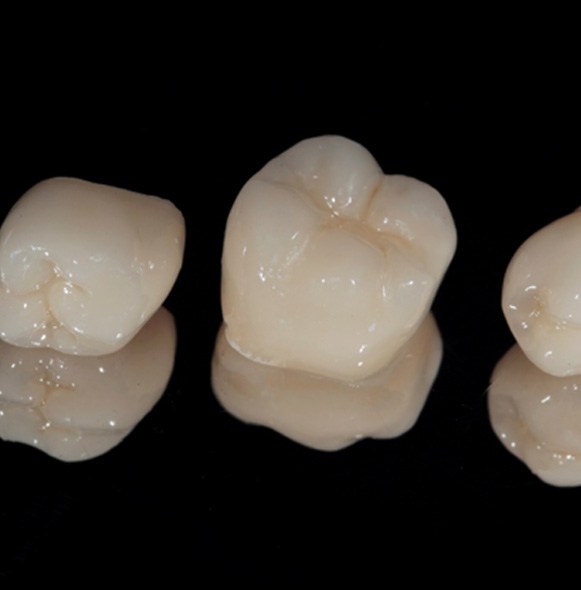 Thanks to the high-quality dental crowns offered at Voller Dentistry, you can restore the health and function of your damaged teeth while protecting them from further harm. When getting a dental crown for the first time, it's only natural to have a few questions. Our team will take the time to walk you through the process during your initial consultation, and they'll thoroughly address any concerns you might have. Below, we've provided a few brief but detailed answers to some of the most common questions we've received about crowns.
How Long Will the Procedure Take?
After your initial consultation, it normally takes two appointments to get a dental crown. During the first visit, a small amount of enamel will be removed from your tooth, and an impression of your mouth will be created. The crown will be made in a dental lab using the impression as a guide. We'll place a temporary crown to protect your tooth during this time.
Once the final crown has been completed and sent back to our office (which can take a couple of weeks), we'll schedule a second appointment. During this visit, the crown will be bonded to your tooth after we've made any necessary adjustments to ensure that it fits properly and looks as natural as possible.
Does It Hurt to Get a Dental Crown?
When preparing a tooth for a dental crown, we'll numb the area first so that you don't feel any discomfort. Once the numbness wears off, the tooth in question may feel sensitive for a few days. You can take over-the-counter pain medications such as ibuprofen to keep your discomfort under control.
As for the actual placement of the crown, your tooth may or may not be numbed depending on your needs and preferences. You might also experience some sensitivity afterward, but it won't be to the same extent as what you experienced after your first appointment.
How Long Will My Crown Last?
The lifespan of your dental crown can vary based on the material it's made of and the kind of care you give it. A normal crown will have to be replaced after 10 years, but it's not uncommon for some of them to stay in the mouth much longer than that. You can help your crown last as long as possible by:
Practicing good oral hygiene
Visiting Voller Dentistry every six months for a checkup and cleaning
Avoiding sticky or hard foods
Dropping bad habits like chewing your fingernails
What Do I Do If My Crown Falls Off?
Over time, your crown might lose its bond with your tooth and fall off. If this happens, stay calm and call our office to schedule an appointment. Do not try to bond the crown back in place by yourself; instead, keep it somewhere safe so that you can bring it with you when it's time for your appointment. When eating, be careful not to chew with the affected tooth.