Dental Implants – Kittanning, PA
Laying the Foundation
of a New Smile
It is a simple fact that when it comes to replacing missing teeth, the best, longest-lasting solution available is dental implants. They can do things that other restorative procedures simply can't, and implants help ensure your long-term oral health in addition to closing the gaps in your smile. Most importantly, however, dental implants have the potential to dramatically improve your quality of life and permanently replace your missing teeth. Dr. Voller has been restoring dental implants for many years, and he has the experience to make sure you get a smile you'll be eager to share. If you'd like to learn more about getting dental implants at our Kittanning, PA dental office or to schedule a consultation, simply contact us at our dental office.
Why Choose Voller Dentistry, PC for Dental Implants?
Partnered with Local Experts for Implant Placement
Reliably Long-Lasting, Lifelike Dental Restorations
Early, Late, and Saturday Hours Available
What Are Dental Implants?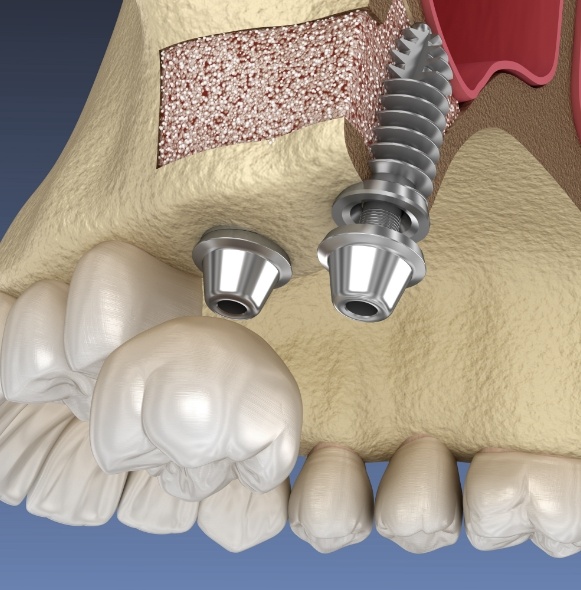 Dental implants are different from any other type of toot loss solution because they're designed to replace the entire structure of a missing tooth. Essentially, a dental implant is a small titanium post that is surgically placed directly into the jawbone to mimic the roots of a missing tooth. Other options like dentures and dental bridges replace teeth by relying on healthy tooth structure and the gums, which provides far less comfortable and functional results that only last a few years. Replacing missing teeth from the roots up ensures your new tooth looks and feels just like a natural one. Additionally, this unique placement can keep it in place for decades or even a lifetime to come while preserving your jawbone density. Implants can also be used to anchor full or partial dentures or bridges and offer a decay-free optional way to replace or hold teeth in place during function. With dental implants, you can regain a complete, confident smile as if you were never missing any teeth in the first place.
The 4-Step Dental Implant Process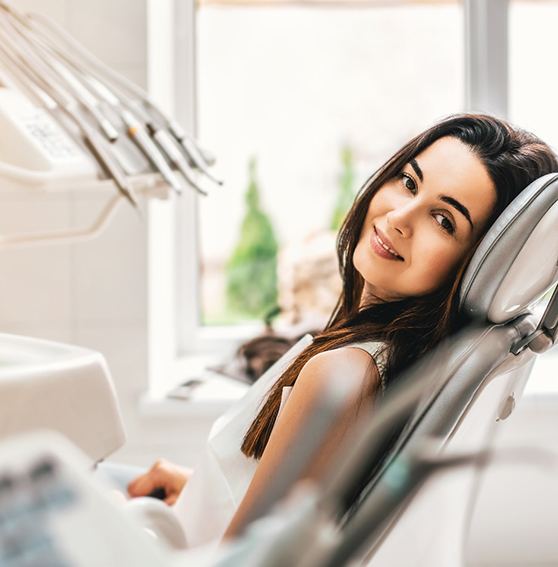 Before you can enjoy the full benefits of dental implants, you'll need to complete a multi-step process that can typically span several months. We're partnered with local experts who can handle the surgical aspects of the implant treatment; this lets our patients enjoy the highest level of care possible at every stage of the process. Your treatment will be personalized according to your needs, but it will always follow four main steps: consultation, surgery, osseointegration, and delivery of the final restoration.
Initial Dental Implant Consultation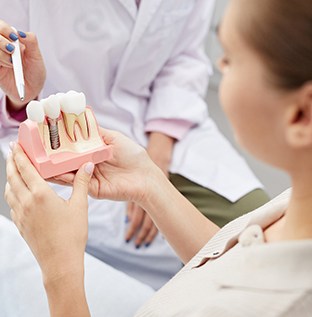 At your first visit, we'll complete a thorough examination of your mouth and jaw, and we'll review your oral health and medical history to make sure that you're a viable candidate for dental implants. We may find that you need to complete preliminary work such as bone grafting or tooth extractions before you can undergo implant surgery; we'll explain what steps need to be taken and help you make the necessary arrangements. You'll be fully informed of what to expect during the process, including the cost and the estimated timeline.
Dental Implant Surgery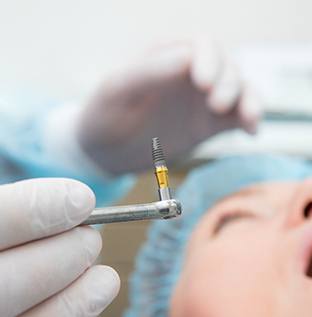 A local implant specialist will perform surgery to place dental implants in your jaw. Working with local experts gives our patients the best chances of success so that they can get the most out of their new teeth for many years to come. During the surgery, the area will be numbed, and sedation may be used to keep you calm and comfortable. A small incision is made in the gums so that implant posts can be placed in the proper spots in the jawbone. Once the gums are closed, a protective cap is attached to each post.
Dental Implant Osseointegration & Abutment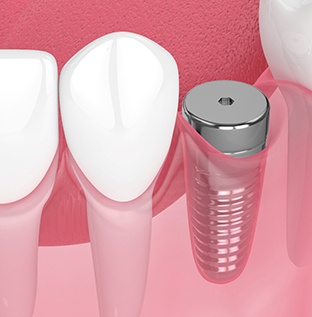 Osseointegration is a natural process where the jawbone fuses with your dental implant posts. This is an extremely important step in the implant process, as it's what gives dental implants their strength and stability. The average length of time for osseointegration to take place is about three to six months. At the end of the process, another small surgery is performed to place abutments on top of each post. We'll only move on to the next step once your mouth has fully healed.
Delivery of Dental Implant Restoration(s)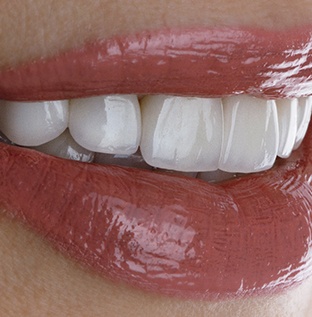 Our office will craft impressions of your mouth with your implants and abutments in place. Said impressions are used by ceramists at a separate dental lab to create a crown, bridge, or denture based on how many teeth you need to replace. You'll return to our office to have the final restoration placed. Once we've attached it to the posts, we'll perform one last check to make sure it's comfortable. After that, you'll be ready to use your new teeth to eat, speak, and smile.
Benefits of Dental Implants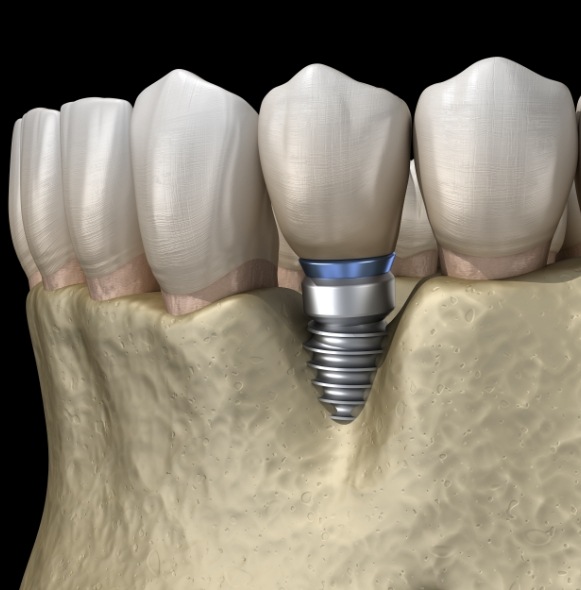 There is no one "right" answer for replacing teeth, and every patient has unique needs to consider. That being said, however, there's a reason why dental implants are considered to be in a class of their own. There are many benefits to having a crown, bridge, or denture supported by a sturdy implant post that has fully integrated with your jawbone. Read on to learn more about some of the advantages that dental implants have to offer and be sure to reach out to our team to discuss how they could help you personally.
Day-to-Day Benefits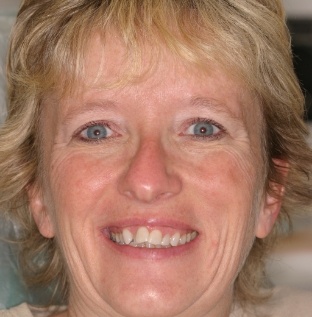 Thanks to the strength and stability of dental implants, your new teeth will help you get the absolute most out of life:
Unrestricted Diet: Since dental implants are much stronger than traditional bridges and dentures, they allow you to safely chew virtually any kind of food. You won't have to stay away from tough meats and other meals that often prove challenging for regular dental prosthetics; you'll be able to eat your favorite meals the same way you did with your natural teeth.
Clearer Speech: Because normal dentures are prone to slipping around in your mouth, they can often cause you to slur and mumble your words at awkward moments. Dental implants, on the other hand, are completely secure, so you can speak confidently and at length without a problem.
Natural-Looking Smile: Your implant restorations will be carefully designed to match your other teeth and complement the rest of your face for the best possible aesthetic result.
Easy Oral Hygiene: When the time comes to clean your dental implants, you'll find that it's not that much different that taking care of your natural teeth. All you have to do is brush and floss like you normally would!
Health Benefits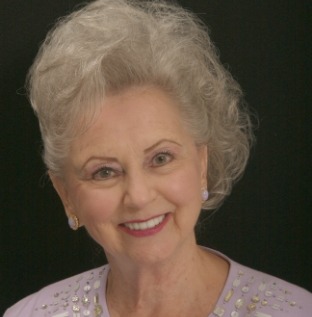 While your dental implants are making your everyday life easier, they'll also be actively contributing to your oral health as well.
Jawbone Preservation: Dental implants stimulate the jawbone, preventing it from breaking down. Traditional dentures and bridges cannot offer this benefit because they don't interact with the jawbone directly.
Keep Your Natural Teeth Safe: A dental implant post and restoration can serve as a placeholder for the gap in your smile so that your natural teeth don't drift out of place. And since implants are self-supporting, we won't have to make alterations to other teeth in order to place them.
Systemic Health Benefits: Did you know tooth loss has been linked to various systemic health issues? It's thought that dental implants can go a long way towards lowering such risks since they're the next best thing to getting your original teeth back.
Long-Term Benefits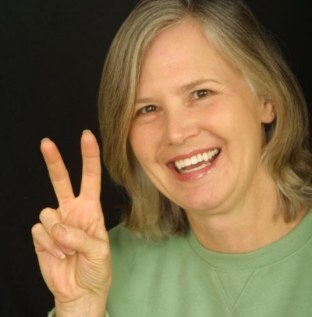 It's often said that dental implants ultimately end up paying for themselves thanks to their longevity and high success rate.
Safe, Highly Successful Treatment: The success rate of dental implants remains extremely high – around 95 percent – even after two decades.
Improved Appearance: Having dental implants to help you maintain a strong, healthy jawbone will make all the difference for your facial appearance in your later years.
Long Lifespan: You won't have to worry about replacing dental implants too often; they can easily last for decades with the right care.
Who Dental Implants Can Help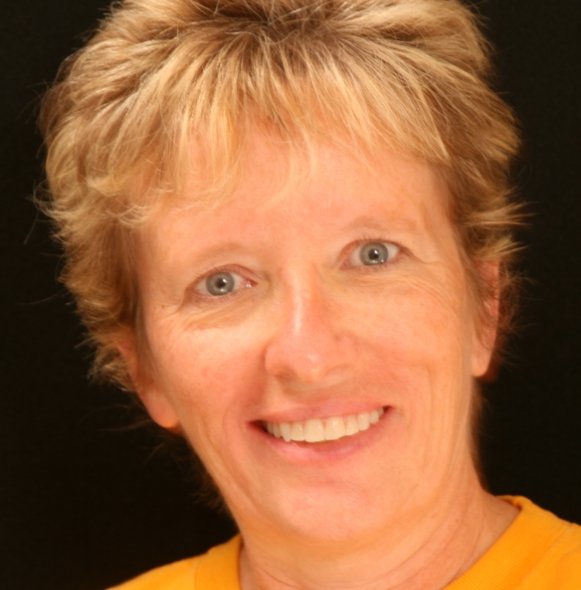 No matter how many teeth you've lost or where they're located, dental implants are versatile enough to fill in the gaps. If you're currently dealing with tooth loss and think that dental implants might be your best option, call us for a consultation so that we can examine your mouth. Your treatment plan will be customized based on the number of missing teeth and your current health needs. Read below to learn more about what makes a good candidate for implant treatment and what our dental implant dentist in Kittanning will be looking for.
Who is a Good Candidate for Dental Implants?
Your meeting with Dr. Voller will consist of a thorough consultation that involves using advanced dental technology to capture clear images of your oral anatomy. He will review his findings to determine three factors that ultimately decide whether dental implants in Kittanning are the right option for you: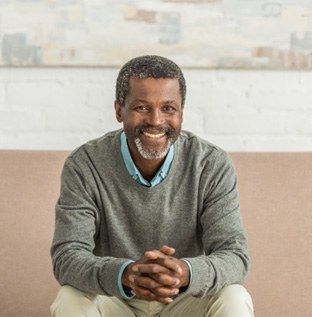 Your oral health – Do you show signs of tooth decay or gum disease? If so, appropriate treatment methods must occur before moving forward with dental implant placement.
Your overall health – You must be healthy enough to undergo minor oral surgery, which is the positioning and angling of each implant into the jawbone.
Your jawbone – The jawbone must be dense enough to hold up and support the implant posts. If it's not, we'll need to discuss the option of a bone graft.
Missing One Tooth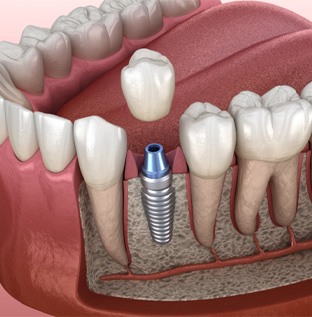 When only one tooth is missing, our team can easily replace it with a single titanium implant post, a metal abutment, and a custom-made dental crown. This unique prosthetic helps to restore the complete root-to-crown structure and offers optimal functionality and longevity, allowing patients to enjoy a longer-lasting smile for 30 years or more.
Missing Multiple Teeth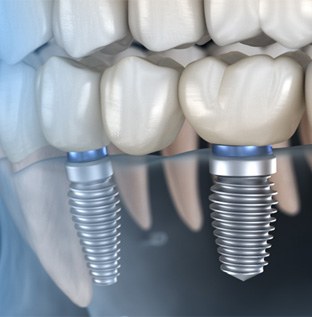 Two or more missing teeth no longer have to be replaced using a traditional bridge or partial denture. Instead, we can use two dental implants in the outer sockets and secure a bridge or partial on top to create a full, complete smile. This prevents the altering of any natural tooth structure so that patients can keep more of their natural teeth while also enjoying the benefits only provided by dental implants.
Missing All Teeth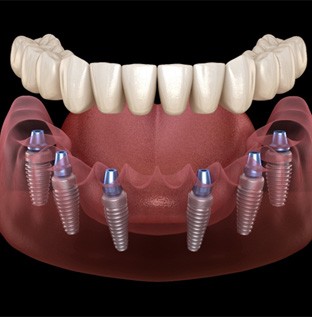 Should an entire arch of teeth be missing, we can place between four and six dental implant posts along the arch to ensure optimal stability. Once fully healed, Dr. Voller will have a custom denture created so that he can position it on top of the implants before securing it into place. Eating, smiling, and speaking will no longer be an issue, allowing patients to embrace a better quality of life.
Who is a Good Candidate for Dental Implants?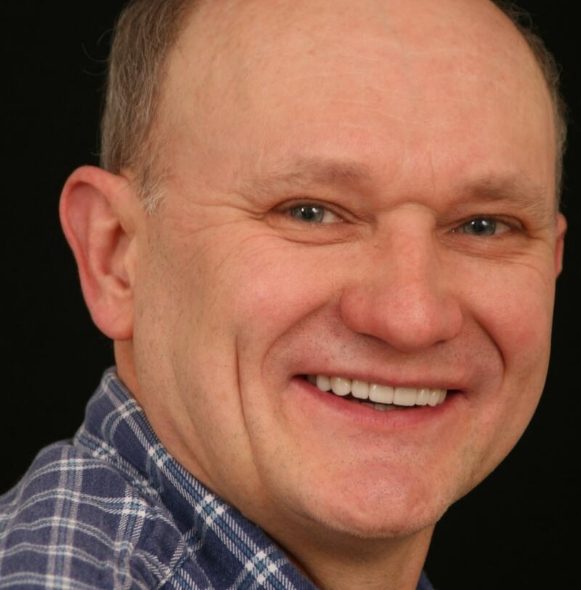 If you are an adult who's in overall good health, you can most likely get dental implants. The process does involve a minor surgery, so we'll need to confirm that you're healthy enough for that. Also, gum disease and cavities will need to be treated before the procedure; otherwise, they could potentially contribute to implant failure. Finally, we'll have to evaluate the density and strength of your jawbone. Bone grafting may be required if your jawbone currently lacks the density needed to successfully fuse with implants.
Missing 1 Tooth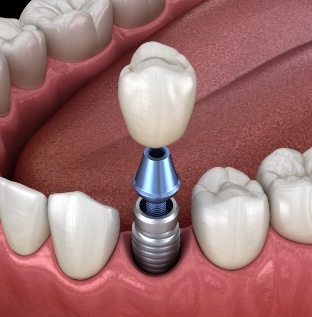 When you get a dental implant to replace one tooth, it will be topped with a dental crown similar to the way a natural tooth would be restored after an injury. A single dental implant has a longer lifespan than traditional tooth replacement options, and the implant in the jaw will be able to directly mimic the missing tooth roots. The crown that we place on your implant will be the same size, shape, and color as your natural teeth; as a result, it will match the rest of your smile so well that most people won't even realize that you lost a tooth at all.
Missing Multiple Teeth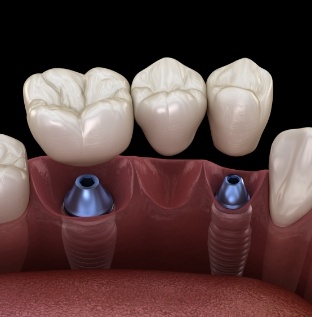 Implants can be used in various ways to replace multiple teeth at once. For consecutive missing teeth, you can get a bridge anchored to a pair of implants instead of the natural teeth. This makes your bridge more stable and lets you save more of your natural enamel. On the other hand, if the teeth you lost were in different parts of the arch, you may need a partial implant denture instead. A select number of implants will be used to support a prosthetic that has been personalized to fit in the smile like a puzzle piece.
Missing All Teeth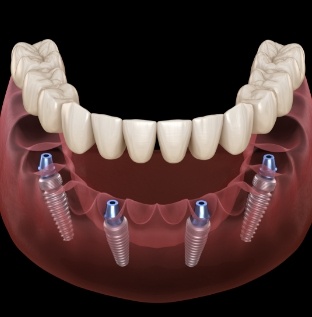 Full dentures can be held in place with about 4 to 6 dental implants. The exact number will vary, but the goal is to provide the most stability with the fewest number of implant posts. Some dentures are permanently fixed in place while others can be removed; both have their advantages and disadvantages, and which one you get depends on your needs and your preferences. Implant dentures do not slip or come loose, meaning you can eat whatever you want or speak at length with full confidence that your teeth will stay in place at all times.
Learn More About Implant Dentures
Understanding the Cost of Dental Implants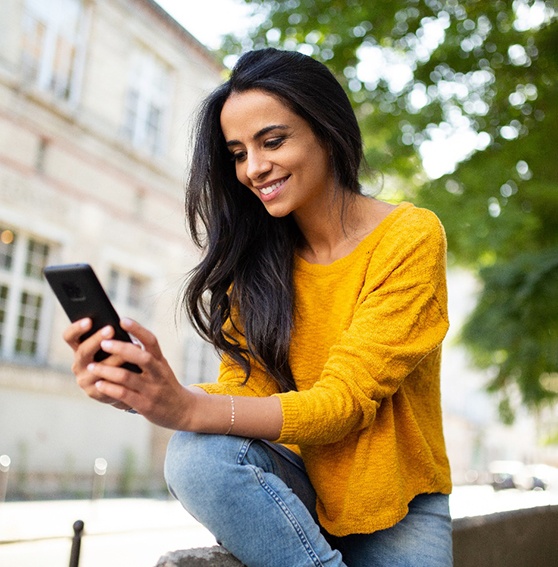 If you try to look up the cost of dental implants online, chances are you won't find a very precise answer. That's because there are many factors that can determine the amount you pay for your new teeth. Our team can give you an idea of how much the dental implant process will cost during your initial consultation, and we'll always work with you to make sure that you can fit the cost of your care into your budget.
Preliminary Treatments & Dental Implant Surgery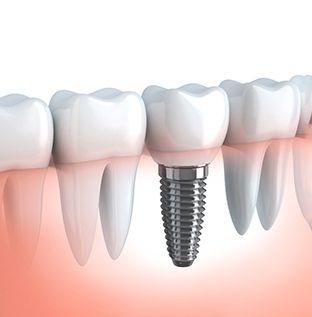 Many patients need gum disease therapy, tooth extractions, bone grafting, and other treatments before dental implant surgery. These procedures will have their own separate costs that need to be taken into account. As for the implant surgery itself, the final price often depends on where the procedure is performed and what type of sedation, if any, is used. The specialist who places your implant will explain how much you can expect the surgery to cost.
The Parts of Your Dental Implant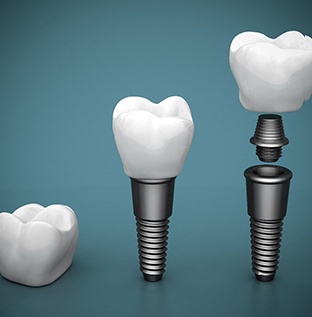 As far as paying for the actual dental implant is concerned, some of the factors you'll need to consider include:
The number of implant posts needed. A single post to replace one tooth will naturally cost less than two or more posts to replace multiple teeth.
The kind of restoration needed. Smaller restorations like crowns tend to be less costly than larger restorations like full dentures.
The size of the implant. Some posts might be longer than normal depending on where they're being placed.
The material used to make the implant. Most of the time, implants are made out of titanium, but some are made of zirconia, which carries a different price.
The brand of the dental implant. You can talk to your implant specialist about what brand they use and what benefits it offers.
How Dental Implants Can Save You Money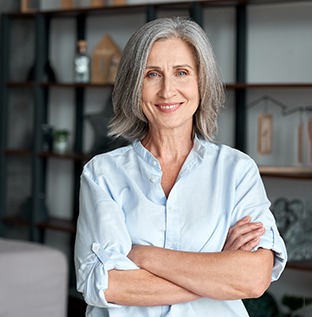 While dental implants may have a higher initial price than other types of tooth replacement, they can actually save you money in the long run. They have much longer lifespans on average, so you won't be forced to buy new ones every 5 to 10 years. Furthermore, implants are biocompatible and easy to keep clean, so they can help you avoid dental health issues that cost money to treat.
Does My Dental Insurance Cover Dental Implants?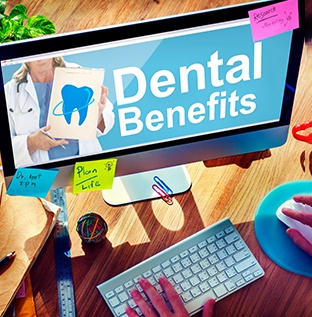 Many dental insurance plans consider dental implants to be a cosmetic treatment and won't cover them. This is not the case for every plan, though, and oftentimes, you can still expect at least partial coverage for the final restoration and certain preparatory treatments. Our team can review your plan with you to help you understand your benefits and how they can be maximized.
Making Dental Implants Affordable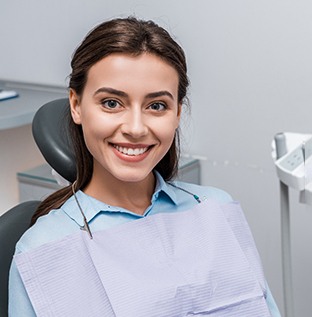 If your insurance won't pay for implants, you can still apply for third-party financing via CareCredit. You can pay in a series of monthly installments that are right for your budget, and many of the plans offered by CareCredit have no interest to worry about. Our team can help you apply for CareCredit and figure out the best way to use financing to take the stress out of paying for your new smile.
Maintaining & Caring for Your Dental Implants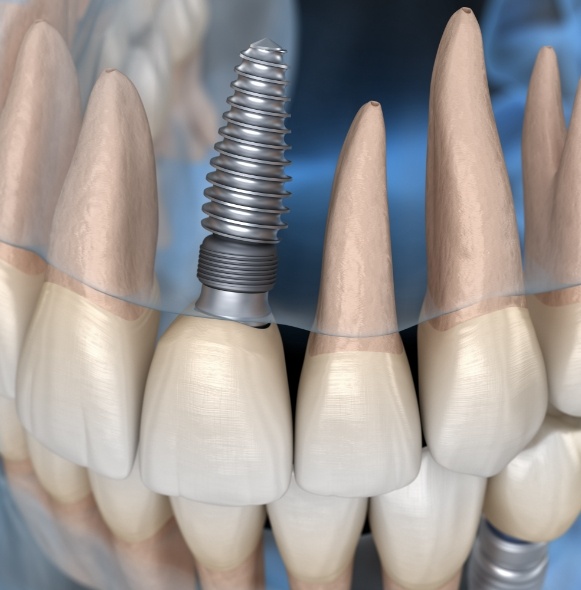 With proper surgical positioning and care, dental implants have a 95% placement success rate. Once your dental implants are in place, proper at-home care will improve your ability to maintain your implant-supported tooth replacement for life. You'll need to brush and floss teeth as usual. You may want to use a water flosser to clean around the gum line if you have an implant denture. We will walk you through the best techniques to care for your new smile. You will also need to visit us at least two times a year for dental checkups. During these visits, we'll examine your dental implant for areas of damage and make repairs to extend the life of your newly rebuilt smile.
Dental Implant Frequently Asked Questions
We hope that the information on this page helps you better understand what getting dental implants in Kittanning is like. Of course, you might still have some concerns about the process; we encourage you to call our team right away if there's anything you want to know about the implant procedure. Listed below are some of the most frequently asked questions that we've heard from patients when it comes to implants. Check to see if your questions are already answered here.
What Can Cause My Dental Implants to Fail?
Implant failure is quite rare, but when it does happen, it's usually due to either a form of gum disease called peri-implantitis or a failed osseointegration process. The former can occur when you don't brush and floss the area around your implant properly and fail to have regular checkups performed; the latter is often a consequence of a lack of bone density, but it could also be a side effect of teeth grinding, tobacco use, and certain medications. We will review your dental and medical history during your first implant consultation, and if we find anything that could put you at risk for implant failure, we can discuss ways to overcome the issue and protect your new smile.
Will Getting Dental Implants Hurt?
Many people are surprised that implant surgery is much more comfortable than they thought it would be. We will numb your mouth and use state-of-the-art techniques designed to stop you from experiencing pain during the actual treatment. Afterward, we'll give you post-operative instructions that will help ensure that you experience as little discomfort as possible while your mouth heals. Some patients find they don't even need to use the pain medication that is prescribed after the procedure.
Will People Be Able to Tell That I Have Dental Implants?
A lot of people worry that prosthetic teeth will stand out among their natural teeth, but with dental implants, that's a non-issue. The implant post won't be visible at all; it will be completely hidden under the restoration and the gums. Meanwhile, your new crown, bridge, or dentures will be designed to match the size, shape, and shade of the existing teeth, making them virtually indistinguishable from the real things. You also won't have to worry about your teeth slipping at the wrong moments thanks to the stability of your implant posts, meaning no embarrassing slurring of your words or chewing malfunctions that draw the worst sort of attention to your dental prosthetics.
Is There Anything I Shouldn't Eat with Dental Implants?
There are little to no dietary restrictions when it comes to dental implants. The posts have the strength and stability of real teeth, so you won't have any problem chewing tough meats and other foods that often cause problems with traditional dentures. You will need to maintain a soft food diet for a while after the implants have been placed, but once your mouth has fully recovered, you can go ahead and indulge in your favorite meals. You should, however, still be careful around hard foods that can cause cracks, chips, and other types of damage.