Inlays & Onlays – Kittanning, PA
Conservative Solutions for Damaged Teeth
Dr. Voller is committed to practicing conservative dentistry—that is, dentistry that helps you conserve as much of your healthy enamel as possible. That's why, at our dental office, we offer inlays and onlays for Kittanning, PA dentistry patients. Both are options that let you resolve issues with decay and improve your oral health, all while conserving more of your smile's natural structure.
Why Choose Voller Dentistry, PC for Inlays & Onlays?
High Quality, Long-Lasting Restorations
100% Digital Impressions
Dentist with 40+ Years of Experience
What Are the Differences Between an Inlay and an Onlay?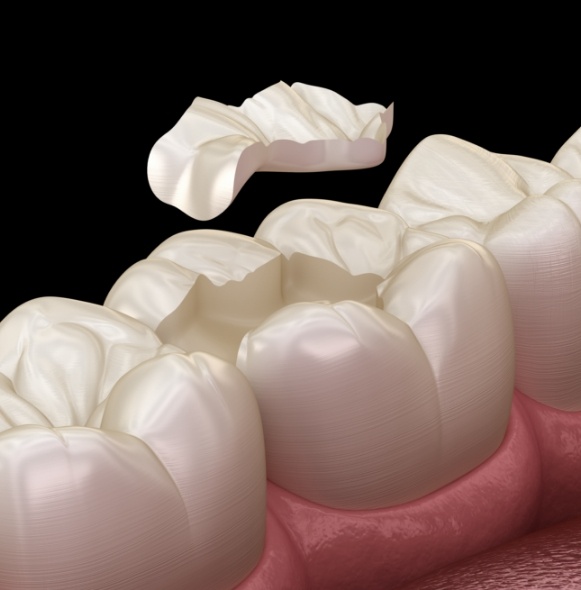 The primary difference between an inlay and an onlay is that they're placed in slightly different areas. Patients who need to have a restoration placed between the bumps on top of a tooth—which are called cusps—will receive an inlay. Patients, meanwhile, who need a restoration that fits over one or more cusp will receive an onlay. The material a patient's restoration will be made of depends on where it's being placed.
Conserving Your Smile with Inlays and Onlays
Not every patient is a candidate for inlays or onlays. That's why a consultation appointment with Dr. Voller is so important. During your appointment, Dr. Voller will assess your problem and determine the solution that's right for you.
If an inlay or onlay is right for you, the entire process will take at least two appointments to complete. During your first appointment, we'll prep your tooth by removing old filling material or decay from the area we'll be working with and cleaning it. Then, we'll take an impression of your tooth and send it to our lab, where a technician will handcraft your custom-made restoration.
When your conservative procedure has been completed, you'll come back to our dental office for your second appointment. During this time, we'll remove your temporary inlay or onlay and put your permanent one in place. Then, Dr. Voller will finish by making any minor adjustments that might be needed to ensure proper bite alignment, resulting in a strong, healthy smile that will last for years to come.