Periodontal Therapy – Kittanning, PA
Soothing and Healing
Infected Gums
Did you know that the most common disease in the US is gum disease? Nearly half of the adult population has a form of it and is completely unaware. This is because it starts very subtly and takes a long time to develop. Once it becomes advanced, it is actually the leading cause of tooth loss. At Voller Dentistry, PC, we take the health of gums seriously. That is why the Voller Dentistry, PC team will always examine your gums when you come to see us. Should you develop gum disease, we can help you treat it as well. If you experience red, swollen, or sore gums that bleed often, don't hesitate to call our dental office today for periodontal therapy in Kittanning, PA.
Why Choose Voller Dentistry, PC for Periodontal Therapy?
Convenient Hours for Busy Patients
Sedation Options for Anxious Patients
Friendly and Knowledgeable Dentist w/ 40+ Years of Experience
Scaling & Root Planing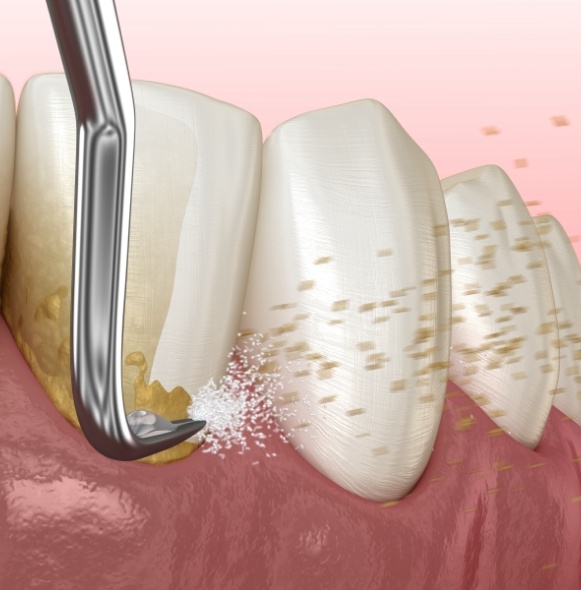 Most of the time, gum disease can be treated with regular dental cleanings and more consistent oral hygiene at home. However, once the infection has become advanced, additional treatments may be required. One of these involves a deep cleaning along your gum line, which actually consists of a pair of procedures called scaling and root planing.
Scaling is when one of our hygienists will actually use a small tool to remove the plaque and bacteria that have accumulated along the gum line. The procedure is very similar to when a hygienist uses a dental pick to clean your teeth, but scaling is much more thorough and concentrated. You may be numbed before the procedure to ensure you stay completely comfortable throughout.
Root planing will then be used to shape the roots of your teeth so that plaque and bacteria are less likely to gather around them in the future. Depending on your particular situation, both procedures may require multiple appointments to complete, and Dr. Voller will likely ask you to come in again for a follow-up.